Meet Our Doctors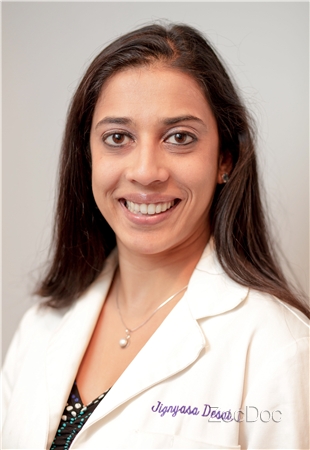 Dr. Jignyasa Desai has devoted her life to health care and the improvement of pain conditions.
Dr. Jignyasa Desai is medically trained as an Osteopathic physician. She is highly trained in advanced interventional pain management procedures with ACGME accredited fellowship training under Dr. Frank Falco, (President of American Society of Interventional Pain) at Temple University.
Dr. Desai is dually board certified in Physical Medicine and Rehabilitation as well as Pain Medicine. Her ideology has been influenced by integrative medicine philosophies. She approaches the patient with a holistic approach including counseling on diet, nutrition, exercise and specific injury related issues. She performs the traditional steroid injection therapies for pain control as well as alternatives such as biopuncture, prolotherapy and platelet rich plasma therapy. She is also a widely published physician.
Training
College: East Tennessee State University B.S. Biology with honors
Medical School: Lake Erie College of Osteopathic Medicine
Internship: Aria Health System via Philadelphia College of Osteopathic Medicine
Residency: Physical Medicine and Rehabilitation- Stonybrook University
Fellowship training: Pain Medicine- Temple University (ACGME accredited training program)
Board Certifications:
Physical Medicine and Rehabilitation (AAPMR)
Pain Medicine (ABA)
Society Memberships:
American Board of Physical Medicine and Rehabilitation (AAPMR)
American Society of Interventional Pain (ASIP)
International Society of Interventional Pain (ISIS)
American Society of Physicians of India (APPI)
American Society of Osteopathic Physicians (AOA)
State Licenses:
New York and New Jersey