Click On One Of The Images Below To Read About Ultherapy In The News
Ultherapy® is really a new kind of non-surgical, non-invasive procedure that utilizes ultrasound energy to securely lift and tone your skin with no down time. The ultrasound image around the viewing screen enables our Doctors to determine precisely at what level the energy has been delivered. The focused sound waves create specific heating of the deep layers from the neck and face which have lost their elasticity and firmness with time. Since the sound waves pass underneath the top of skin, the deep support layer accountable for sagging is tightened without disrupting your skin. Following an Ultherapy® treatment, enhancements are visible immediately with some contraction and firming but the building of new collagen happens progressively within 2 to 3 several weeks following the treatment. The mixture of the contraction of the tissue and new collagen formation can counter the results of gravity onto the skin and get significant lifting results. Even though the results don't duplicate the results of surgery, the visible enhancements of Ultherapy® turn it into a compelling choice for individuals who aren't prepared to undergo a far more extensive procedure such as surgery.
Much More About Ultherapy®:
•    A full neck and face Ultherapy® treatment takes about an hour, and there's no down time, an partial face treatment may take less than half an hour.
•    No anesthesia is needed. You'll be given pre-medication in lowering the variable amount of discomfort that happens throughout the process. There's no discomfort after the process is completed. Mild short-term tingling and minor redness that could occur will often resolve after just one hour. There's no aftercare necessary and you'll resume normal activities following treatment.
•    Improvements can start immediately with a few contraction and firming sessions. Similar to muscle building with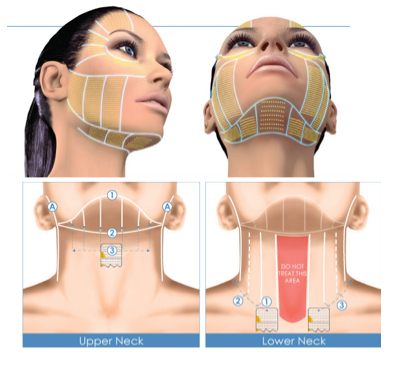 exercise, the building of collagen happens progressively over 2-3 weeks after treatment.
•    More significant facial and neck sagging may need more treatment after 3-6 weeks.
•    The amount of results can differ but expect as much as 24 months of advantages from Ultherapy®.
•    Ultherapy® could be coupled with other non-surgical remedies, for example BOTOX® Cosmetic, injectable additives, and Fraxel® laser to boost results.
How Does Ultherapy® Focused Ultrasound Therapy Work?
Unlike lasers, which penetrate your skin from the outside-in, Ultherapy® bypasses the top of skin, specifically targeting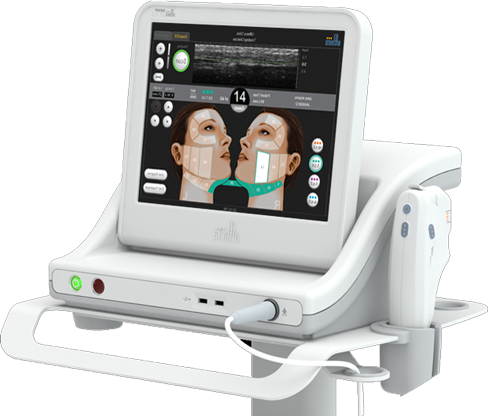 the deep, structural skin tissues where collagen lives. Using ultrasound technology, Ultherapy® actually works from the inside-out to lift and tighten skin non-invasively.   In some ways, Ultherapy® is just like an ultrasound imaging procedure that expectant mothers may receive. A smooth handpiece is placed on your skin and an image of the tissue beneath is projected on a screen. This allows your practitioner to "see" where they will treat your skin.
But here's the difference: with Ultherapy®, that very same handpiece is also used to deliver tiny deposits of focused ultrasound energy at just the right depth below the skin, to the same foundational layer typically addressed in a surgical facelift.
Your body's response to this energy is to recondition tired skin by stimulating the growth of fresh, new collagen. The outcome is a tightening and gradual lifting-or shifting-of your skin back into a much more youthful position and form-fitting shape.
Who is a Good Candidate for Ultherapy®?
Ultherapy® is an ideal treatment option for someone with skin that has become lax to the point of looking, and often feeling, less firm.  Optimal candidates are between the ages of 30 and 65 with mild to moderate skin laxity.
Here are some Before and After Photos…