The NYC Anti-Aging Clinic offers various skin treatments such as Photoepilation, Microdermabrasion, Oxygen Rejuvenation, Photofacial Treatments. If you would like to schedule a FREE Consultation to speak with a doctor/specialist about one of our skin treatments then please give us a call at (212) 245-0070.
Photoepilation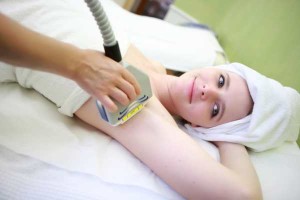 The Problem of hair growth in various zones of a body worried women of all times. In modern cosmetology it is especially urgent, as a smooth skin with a faultless surface which is especially pleasant to show in the frank dress is in fashion today. The last scientific workings out help today's women, one of them is the technology of intensive pulse light – IPL.
Its principles lie in the bases of the newest technique of photoepilation, which now possesses numerous advantages in comparison with all ways of removal of undesirable hair.
Firstly, this procedure is highly effective and is not interfaced with hurting of the skin.
Secondly, it provides the long positive result and thanks to the soft influence approaches to the zones of a sensitive skin: face, breast, axillary hollows, a bikini zone.
The mechanism of action of the devices IPL (E-Light) is based on short-term flashes of light which influence enough big zone of a skin. Getting into cores and roots of hair, light impulses are absorbed by a pigment melanin. In the result of a sharp rise in temperature protein and cellular structures of a zone of hair growth collapse. In hair where there is no melanin, the destruction of cells occurs in the result of fast, but powerful thermal influence. Thus the tissues surrounding a hair bulb, are not damaged, as there operates the system of instant cooling.
Thirdly, with its help it is possible to get rid of different kinds of hair on any type of a skin. It is rather effective both for elimination of soft prenatal hairs, and for liquidation of a dark hard hair with well developed core. Besides it, the photoepilation allows to process quickly the big surface of a skin, and also interferes with the occurrence of the grown hair.
The optimum length of hair for the removal by an intensive pulse light is about 1-2 mm. It should be taken into account while preparation for a session. Besides, in two weeks before the session it is recommended to refuse sunburn of any kinds. The necessary quantity of visits depends on the specific features of the person's skin, as a rule, it is enough to have 3 – 5 procedures. Photoepilation has a number of contraindication, therefore it is necessary to consult a doctor before the session. Today it is the most comfortable, effective and safe method of removal of undesirable hair.
Microdermabrasion
Microdermabrasion treatments are a non-surgical way to freshen and rejuvenate the skin on your face.
A less aggressive approach than dermabrasion, microdermabrasion treatments make use of a minimally abrasive instrument to gently sand the skin, removing the thicker, uneven outer layer.
This type of skin rejuvenation is used to treat light scarring, discoloration and sun damage and there's even microdermabrasion for stretch marks.
Imagine a very fine sand blaster and you'll get a picture of how microdermabrasion works. It uses microparticles, or a diamond-tipped wand, to slough off the top layer (epidermis) of your skin and stimulate new skin growth.
The technique also helps to thicken your collagen, which results in a younger looking complexion. Collagen is a protein in your skin that's abundant when you're a child and makes skin appear taut and smooth. Collagen production declines as we age, resulting in looser, uneven skin.
There is almost no discomfort in microdermabrasion, meaning you won't need a topical or local anesthetic and there is no recovery or downtime.
Oxygen Rejuvenating Treatment
A Rejuvenate oxygen treatment is a non invasive treatment that targets the appearance of fine lines, wrinkles and dramatically enhances overall hydration.
How the Treatment Works:
A Rejuvenating Oxygen treatment harnesses three elements to achieve instant and dramatic results:
A. Oxygen under light pressure aids delivery of age defying ingredients to the skin at the same time as cooling and calming the skin.
B. Unique Rejuvenate Serum contains lightweight Hyaluronic Acid and a powerful combination of vitamins and antioxidants. The Hyaluronic Acid helps to instantly hydrate the skin resulting in increased firmness, reduced appearance of fine lines and wrinkles, improved look to facial contours and overall radiance.
C. Treatment Support Products provide essential layers to seal in and supplement skin nutrients for maximum synergistic effect and longer lasting results.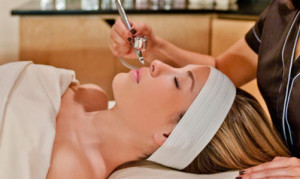 Many celebrities, such as Madonna, rely on the oxygen facials to keep their faces smooth and firm. As we age, the amount of oxygen in the skin significantly decreases. As a result, the metabolism of our skin cells slow down. With age and poor health choices such as smoking and sun bathing, the skin loses its ability to retain and utilize oxygen for normal metabolic processes, such as repair and regeneration. When oxygen is lacking at the cellular level, our skin begins to age—sometimes prematurely. Oxygen facials will help nourish and rejuvenate dull skin;
When given high concentrations of oxygen in oxygen facials and treatments, the oxygen triggers the bodies own healing functions and the skin will rapidly heal in such a favorable environment.
Moreover, the skin that is treated with oxygen facials fights bacteria associated with acne more effectively, because in an oxygen rich environment, bacteria, viruses, and fungal infections do not survive. If oxygen levels are low, it is harder for the skin to rid itself of impurities. However, with a rich concentration of oxygen, the skin and the body as a whole will be able to function better and more efficiently for healthier, smoother glowing skin.
Photofacial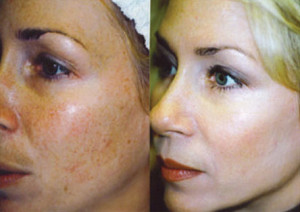 IPL Photofacial is a cosmetic procedure designed to produce younger and healthier looking skin. A variety of skin conditions, such as red complexion, rosacea, fine lines, wrinkles, large pores, freckles and pigmented spots can be treated using intense pulsed light (IPL) therapy.
These skin conditions are often caused by aging, sun exposure, genetic predisposition, and other factors.
Pigmented spots and areas of redness selectively absorb the intense pulsed light delivered by our E-light platform, resulting in cosmetic improvement, without peeling or burning. The IPL Photofacial process will leave the skin with a clear, glowing, youthful appearance – making this one of our most popular procedures.
A photofacial, or "fotofacial," is a 30-minute procedure in which intense pulses of light are used to penetrate deep into the skin. IPL photofacial then causes collagen and blood vessels below the epidermis to constrict, reducing redness and age lines. The procedure involves only minimal discomfort, while the redness and swelling that sometimes occur after treatment disappear shortly. Most benefits of a photofacial/fotofacial occur in the few weeks following treatment.
Photofacial is one of our most exciting anti-aging services. Photofacial of the face and body produces even-toned skin that looks more youthful.
Photofacial can erase skin damage and treat a variety of skin conditions, such as:
Broken capillaries

Sun and smoke damage

Veins

Mild acne scars

Enlarged pores

Dull complexion

Uneven pigmentation

Pigmented freckles and age spots

Red flushing skin

Rosacea and redness

Liver spots

Fine lines and wrinkles
Using advanced non-laser Intense Pulse Light technology, Amerejuve Med Spa medical professionals deliver precise amounts of light energy through the skin's surface to stimulate the production of collagen. As the new collagen forms, it softens the appearance of aging skin. Fine lines and wrinkles are decreased and the redness associated with rosacea and redness can be dramatically reduced. Photofacial treatments restore a more youthful appearance and improve skin texture without any downtime – allowing you to return to work or leisure activities immediately.
If you're considering a Photofacial treatment – or any other treatment – we invite you to schedule a free consultation.
IPL photofacial can be used to treat redness caused by acne, rosacea, hyperpigmentation and facial veins, as well as the fine lines and wrinkles caused by aging or sun damage. And if your skin has been discolored as a result of smoking, alcohol use, or hormonal changes, an IPL photofacial/fotofacial can smooth and refine your complexion. Please call us to make your free consultation appointment to evaluate your eligibility for this popular procedure.
IPL photofacial involves relatively little discomfort and no downtime. Unlike many laser techniques, the procedure is non-ablative, meaning no skin is removed during treatment. This contributes to the easy recovery and low risk associated with the IPL photofacial/fotofacial, while allowing patients to return to their everyday routine immediately. After treatment the skin may look a little flushed. The flushed look will soon fade away leaving the skin looking younger and rejuvenated.